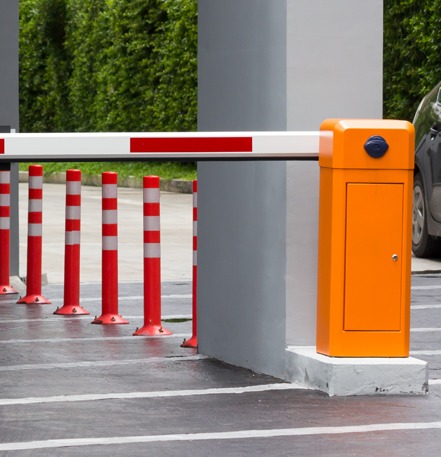 Automatic, manual and solar boom gates design and installation
The boom gates are securing the sites everywhere –  from car parks, airports, private parking lots to industrial sites, commercial properties and construction areas. Whatever the location and the purpose of boom gate placement, it provides much-needed safety by limiting access to the site. On the other hand, it makes the vehicle flow in the car parks easy and undisturbed at all times.
Since we have been at the top of the boom gate Mandurah business for almost 20 years, developing and improving our products was a slow and careful process. That is why we can guarantee for each of them with 100 per cent confidence and a signed and sealed 12 months warranty.
Which Boom Gate Do You Require?
When it comes to choosing an appropriate boom gate for your premises in Mandurah, our team is always ready to suggest and find the best solution. Let us introduce our award-winning boom gate assortment.
In case you need an automatic boom gate to control the vehicle access on your site, there are few options to consider. We install mains, solar and pneumatic-powered gates that operate without human interference and some even without a direct electricity source.
The alternative ones, Solar (SOLIS) and Pneumatic boom gates (The ZoneGuard™) are especially convenient if you don't have any or have limited access to electricity. Also, they are more than just a great solution for various institutes, oxygen-storing facilities, construction and other sites which are operating with combustible materials and liquids. These gates have a valuable role in keeping your employees and premises hazard-free at all times.
If you decide to set up a manual boom gate, you are presented with our The ZoneGuard™ gate which is easy to install, use and maintain. Ideal for many different commercial properties like construction sites, loading docks and bays, warehouses, military facilities and others. If you are looking for an affordable and express traffic barrier solution, this gate is the right choice.
Fully Customised Boom gates Ready for a Prompt Manufacture
Each boom gate is different because each client has individual requirements and site characteristics. That is why our engineers, designers and technicians are always cooperating in order to design another presentable product. Once we establish crucial gate particularities like the arm length, type of mounting and powder coating colour of your choice, we begin with the production. As soon as your boom gate is ready, our professional technicians are delivering and installing the product at your site.
Boom Gate Repair Mandurah 
As we mentioned, once you install our product, you will get a 12 months warranty. We guarantee our product quality and durability, but sometimes, unexpected damages or mishandling can occur. In that case, you shouldn't worry for a second because our technicians are always available to you. That is how we keep your premises safe.
Depending on the problem, the boom gate can be fixed at your premises, or if needed, transported in our workshop for further examination. The usual repairment time doesn't exceed 24 hours and once we are done, the boom gate will be delivered back to your property and installed again.
Secure Your Property and Contact Boom Gate Mandurah Team Now
If you are not sure what type of boom gate you need, our staff is more than willing to hear you out and suggest the best option. Feel free to enquire about our boom gate Mandurah offer by filling out a form, and we will get back to you as soon as possible. For any information and help, do not hesitate to contact us directly at +61 8 6305 0511 or write an e-mail at ask-us@accesstechnologies.com.au.