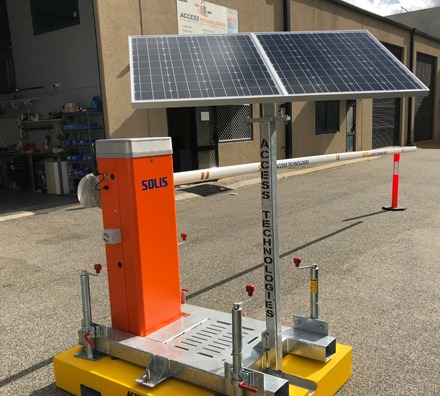 Have you ever taught about implementing an eco boom gate into your property? At Access Technologies, we can provide you with the perfect cost-effective and economic solution that will fit your specific needs. Our eco boom gate Perth is designed to protect infrastructure, save energy consumption and protect your property.
We design, manufacture and install eco boom gates for personal and business uses. The design we make is always aesthetically pleasing, functional, strong and durable thanks to the highest-quality materials.
Being eco-conscious today is no longer just about recycling. There are many other things, as an eco boom gate, that will give you the option of an automatic solar powered gate.
When it comes to solar power technology, there are no restrictions. It can be used everywhere. Therefore, we used it to design a boom gate system for residential, industrial and commercial applications that will be powered by solar panels. The system we implemented in this boom gate works automatically within a few seconds. It will allow you to enter or leave your property quickly without any extra expenses.
Eco boom gates are actually high-quality solutions that give a more environmentally friendly approach since the boom barrier is running entirely of solar energy. Why are they the perfect choice? Well, this boom gate does not require any use of electricity or power and all of its electric needs generated from the sun. And we all know that solar energy is reliable and safe. It is cost-effective and it fulfils all leisure complaints. The energy it uses is the cleanest source of energy in the world and that makes it a logical choice for our boom gates.
​
Eco Boom Gate Specification
Boom Arm Length: 5-metres as standard (7-metre optional)
Boom Arm Material: Aluminium tube – Reflective decals
Allowable Cycle Rate: 400 Operations per 24-hours
Solar Panel: Fully Adjustable – Removes for transport
Mains Power Option: 40 VAC or solar
Boom Arm Height: Adjustable – 800 mm to 1000 mm
Weight: 315 Kg total – including base
Size of Base: 1330mm x 1460mm
Access Technologies Eco Boom Gate
Access Technologies can customise the eco boom gate to meet all your requirements. We will come to your property, investigate the field and see whether we need to adapt our boom gate to an uneven surface.
Every installation is different and that's why we do not have a unique approach. You should consider the needs and how you want the boom gate to look and we will do the rest for you. What makes things even better is the fact that the eco boom gate is an ideal solution for remote locations. So, if you own a property where electricity is a problem or it is too expensive, the eco boom gate will be a perfect choice.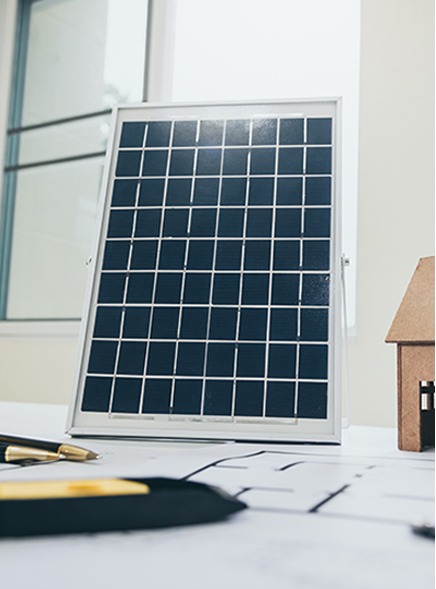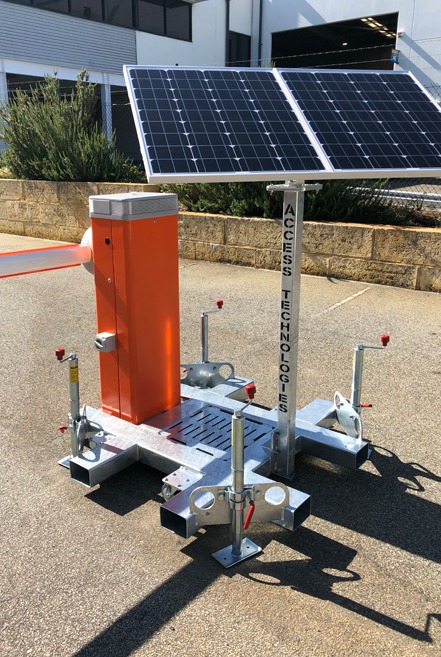 Benefits of Eco Boom Gate Perth
If we set aside the fact that this is the most environmentally friendly solution, there are many other benefits like:
Easy and fast installation
Adjustable legs that allow levelling
Easy positioning
Solar-powered for remote use
Wireless remote control operation
They improve safety through traffic control
No Job is Too Big or Too Small
If you are interested in eco boom gates, you can make an inquiry in just a few simple steps. Write down your message and our customer representatives will reach out to you shortly. We will discuss your ideas and come to a perfect solution together.