Bike Racks Perth (Bicycle Parking)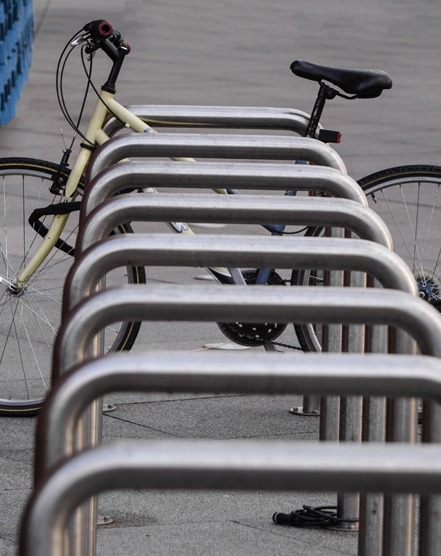 Download your Single Bike Rails brochure:
If you need a durable solution for your employees or visitors and want them to know their bicycle will be secure in your parking lot, we have a solution for you. Our company provides high-quality bike racks and professional installation conducted by our certified technicians.
For more than two decades we have been providing first-class products and have been working with numerous commercial and residential clients. So whether you need a couple of bike racks, or more than a hundred, we will be there to help you.
Our products are made of high-quality materials that can stand the test of time, and you can be sure that they will remain in excellent condition for years to come. Our staff is at your service to explain to you the characteristics of single bike rails and multiple bike racks Perth that we offer, in case you have any doubts.
Single Bike Rails
Bike Parking Rails can be installed as a single unit, or in an array. Unlike bike racks, bike rails permit full flexibility on the layout of the bicycle parking solution and can accommodate up to two bikes – one on each side of the rail.
These rails are available in a variety of finishes, including galvanised and stainless steel – and can be supplied in bolt-down or concrete in-situ configurations. Manufactured from heavy grade steel tube, these units are highly vandalism resistant and suitable for use in public open spaces. They are shipped as one piece with no assembly required.
They are popular choices for schools, parks, shopping centres as well as for the industrial complexes because they are adaptable and versatile. They can be placed close together, or further apart for easy access and more space for large bikes. Everything is up to you, and we will be there to suggest the best solutions that fit the dimensions and characteristics of the site where you want to place our high-quality single bike rails.
Multiple Bike Racks
Designed for ease of use, and simplicity of installation – these attractive multiple bike racks offer parking security at a moderate cost. These bike racks are made from heavy-duty pipe and are fully welded so they are robust and vandal resistant.
They can be installed to allow either single-sided or double-sided access for maximum space efficiency and come in 2 finishes either polished galvanised or grade 316 stainless steel. Since the multiple bike racks Perth that we offer are among the best ones you can find on market, many business owners decide to install them at their commercial parking lots.
There is no better way to ensure that bicycles of your employees, visitors or pupils will be properly parked and perfectly safe than to invest in our top-notch products. All you have to do is to contact us, and we will guide you through the purchasing process and explain possible transportation options.
Contact Us Today for Bike Racks Perth
Let us show you why so many people all over Perth choose our parking and access control products. Whether you want to make an inquiry or to order single bike rails or multiple bike racks, you can use the online form on our website, or you can give us a call at any time.
We will happily explain everything that you want to know about our professional service and long-lasting products, so wait no more and get in touch with us today. With our help, you will be able to create safe parking that perfectly fits the needs of its users. Companies and business owners all over Perth choose us, and we can't wait to show you why.