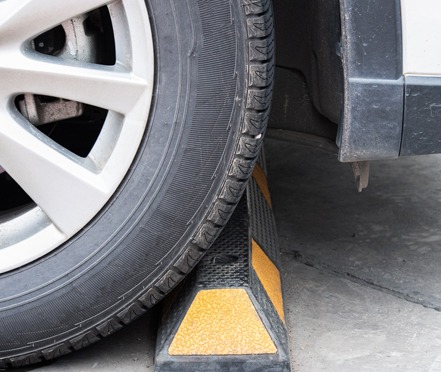 As the number of vehicles on the streets is continuously growing, there is an increasing need for providing functional parking lots. That is exactly what we had on our minds when we started designing and manufacturing our high-quality parking products.
No matter if you are looking for wheel stops, speed humps, convex mirrors or bike racks, we have it all. Besides first-class parking products, we offer professional installation conducted by our licensed technicians. With our innovative solutions, you will be able to create an adequate parking system within your budget. 
We also offer different types of boom gates (automatic, solar and manual ones), as well as cable gates in case that you need to secure the entrance and exit of your parking lot. Many companies from Perth and throughout Western Australia are already using our parking products, and that is the best indicator of our quality.
Convex Mirrors for Indoor and Outdoor Spaces
There is no better way to provide an excellent overview even of the blind spots at your parking than to install our convex mirrors. They come in different sizes and shapes and can be placed anywhere where you need to lower the risk of accidents.
The convex mirrors we offer are made of lightweight materials, but that does not affect their functionality and durability. Although this type of parking products are widely used in traffic, they are equally efficient in other industries. Convex mirrors we provide can also be found in hallways of various buildings like school, hospitals, hotels and even shops.
Besides that, they are widely used at warehouses' crossings or blind spots to enable workers to see approaching forklifts, colleagues or other vehicles. Whether you need a convex mirror for a parking lot or indoor areas of your company, our products will meet your expectations. 
Rubber and Concrete Wheel Stops
Wheel stops are an excellent way to increase safety at your parking lot. This is a barrier placed at the front of parking space that prevents cars from rolling forward into another parked vehicle. They can also be used to prevent the front end of the car from encroaching too far into the sidewalk. We offer two types, rubber and concrete ones. 
The rubber wheel stops from our offer come with yellow high visibility panels, while the concrete ones can be painted to our customers' requirements. No matter which one you choose, we guarantee on-time delivery and long-lastingness of our products.
In case you have troubles deciding which ones would better fit your needs and requirements, feel free to speak with our staff and they will provide all the information you need. 
Speed Humps For High and Low Volume Traffic Flows
Depending on the location and traffic volumes you can choose between the rubber and steel speed humps we provide. The steel ones are fully zinc plated and have black and yellow striping that makes them visible in all weather conditions. The rubber ones offer smooth and silent operation and can come in various patterns and black and yellow modules depending on your requests.
While the steel ones are mostly used in high traffic areas, the rubber ones are a more popular choice for less excessive traffic flows. An array of parking products Perth we offer makes our company a perfect choice for small as well as big commercial sites. 
For more information, feel free to request a quote through the online form on our website, or give us a call at +61 8 6305 0511 and we will answer all your questions and doubts. Our sales advisors will work closely with you to help you choose parking products Perth that fit you perfectly.