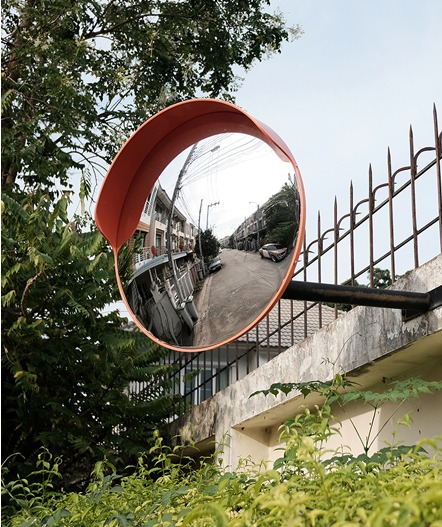 Download your Convex Mirrors brochure:
Materials used for convex mirrors are light-weight and durable, and that is why they are broadly used to increase safety in the areas with lower visibility. They are sustainable with little or no maintenance and that is why they can be used on public roads, indoor and outdoor areas of commercial properties, as well at residential buildings.
Access Technologies supplies and installs a wide range of Convex Safety Mirrors and Dome Mirrors throughout Perth and regional Western Australia. For over twenty years, we have been improving our offer and today we supply and install the following mirror styles:
Outdoor convex mirrors

Indoor convex mirrors

Dome mirrors – Quarter dome, half dome, and full dome types

Driveway mirrors

Blind spot mirrors

Security mirrors
There are many different types, styles, and sizes of the convex mirror – and for this reason, we recommend that you speak with an experienced consultant before purchasing to ensure that your mirror installation performs its intended function. You can count on our certified staff to provide more detailed information about the specific type of convex mirrors that you are interested in, and they will be very happy to help you.
Outdoor Convex Mirrors Perth
Outdoor convex mirrors are used to enhance visibility and improve safety. Our designs are manufactured from impact-resistant polycarbonate and are available in sizes ranging from 450mm diameter to 1000mm diameter.
These mirrors are often used as blind spot mirrors to enhance visibility around tight corners in car parks. Acrylic and Polycarbonate materials are used to prevent impact damage from small stones and projectiles that might be thrown up by vehicle tyres or lawnmowers.
Indoor Convex Mirrors Perth
Indoor convex mirrors are used to improve the visibility of pedestrian traffic in offices, warehouses, manufacturing plants – or any situation where visibility is limited. We are proud to say that many business owners across Perth decided to use our high-quality products to increase the safety of their employees and visitors.
Our indoor convex mirror is available in sizes ranging from 300mm diameter to 700mm diameter, with the preferred size being determined by the mounting height and preferred field of vision. All designs are manufactured from either Acrylic or Polycarbonate materials to ensure adequate resistance to minor impacts.
Download your Convex Mirror brochure: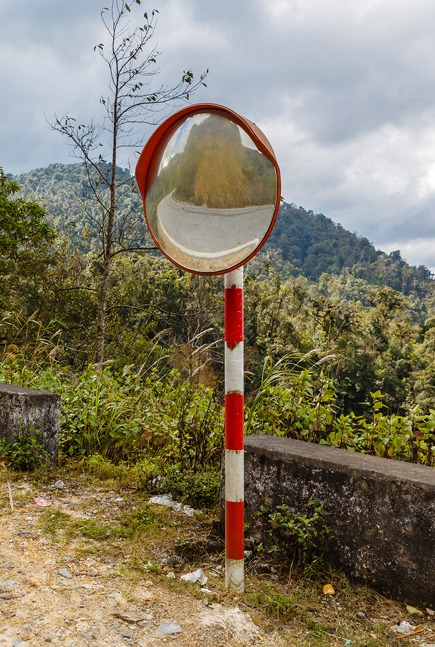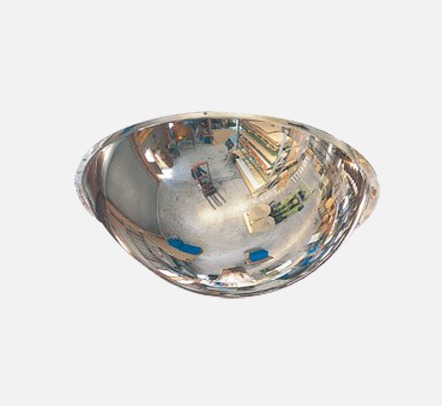 Dome Mirrors
Dome mirrors provide an economical alternative to convex mirrors where surveillance of a wide area is required. Full dome mirrors are generally ceiling-mounted on pedestrian or vehicular intersections and provide a full 360-degree view. It is especially useful in warehouses and similar objects where there are a mixed vehicle and goer traffic. Half dome mirrors provide a 180-degree view and are generally used on blind T-intersection.
Quarter dome or corner dome mirrors provide a 90-degree view and are mounted in the corner of a room to provide visibility down each leg of an L-shaped corridor. All of our dome mirror designs are manufactured from impact-resistant acrylic materials and can be self-installed. However, if you need advice about the installation, don't hesitate to ask us. We will provide all the information you need to complete mounting hassle-free.
The list of potential applications for dome mirrors includes:
Factories – Preventing pedestrian contact with carts and forklifts.

Retail outlets and convenience stores – For stock control and theft deterrence.

Supermarkets – To prevent trolley impact

Hospitals and medical centres – Preventing trolley impact.

Workplace corridors – Preventing pedestrian contact and accidents.
Whether you have already decided which type of convex mirrors you want to order, or you need more information about prices, delivery deadline or something else, we suggest you contact us via the online form on our website. We will give our best to get back to you as soon as possible. In case you want to speak with our customer support agents, you can give us a call on +61 8 6305 0511 any time you like.
Download your Convex Mirrors brochure: