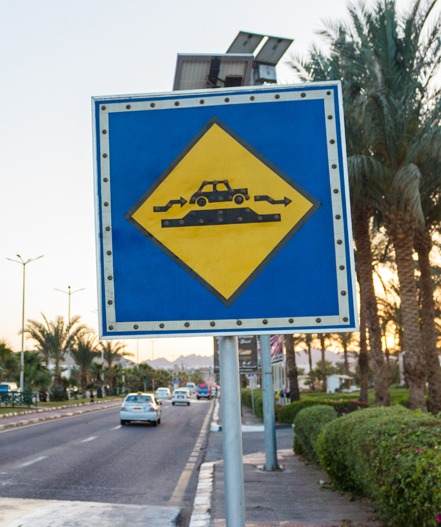 Download your Speed Humps brochure:
One of the most effective ways to improve road safety is the usage of speed humps. They have to be made of quality materials and installed properly to help reduce driving speed. If you want to be sure that you have invested in durable speed humps, you came to the perfect place.
Access Technologies is a leading supplier of speed humps within Perth and Western Australia. You can choose between steel speed humps, or rubber speed humps – depending on the location, traffic volumes, and traffic usage patterns. Our dedicated staff will be at your service to provide more information and help you pick the type of speed bumps that fit your site and your needs perfectly.
Over the past two decades, we have been providing high-quality speed humps and other parking products like manual and automatic boom gates, wheel stops, convex mirrors and other for commercial buildings, parks, schools, medical centres and other. If the traffic around your site is high density, we suggest you prevent accidents by implementing our speed humps Perth as soon as possible.
Steel Speed Humps
Designed to comply with the Australian Standards, steel speed humps are the product of choice where high traffic flows are prevalent. They are best suited for industrial premises and commercial car parks, where there are high traffic flows.
These humps are robust in this environment and come fully zinc plated for many years of trouble-free service. You can rest assured that this a long-lasting investment, and that they will stay in top condition for many years. These speed bumps are designed to minimize noise and 'rattle' and have a built-in bridge design to accommodate pipes and cables where this feature is required.
Black and yellow safety striping ensure excellent visibility under all conditions, so no matter if it is a sunny, foggy or rainy day, you can be sure they will remain highly noticeable.
Rubber Speed Humps
Rubber Speed Humps Perth from Access Technologies are manufactured from a mixture of natural and recycled rubber to reduce environmental impact. These speed bumps offer a low-cost solution in the installation where traffic flows are not excessive.
This is a modular system that can be supplied to any required length, with end caps supplied to suit the required layout. These speed humps offer particularly smooth and silent operation and are recommended for use around residential areas and light commercial installations.
Our rubber speed humps can be supplied in any pattern of yellow or black modules, and are UV stabilized to ensure many years of trouble-free operation. In case you can't decide whether you should install steel or rubber speed humps, we will gladly help you.
Benefits of Our Speed Humps Perth
There is less chance that speed-related accidents will happen when speed humps are installed. This means that all passerby, pupils, as well as your employees, associates, will be more secure. Also, they can lower the traffic noise and they are more affordable than hiring a speed cop to enforce the speed limits.
You just have to get in touch with our professional staff, and they will thoroughly explain all the advantages of our products. You can fill out the online form on our website, and we will give our best to reply within minutes.
On the other side, our customer representatives will be there to answer all your questions and doubts in case you decide to give us a call on +61 8 6305 0511. Besides production and delivery of high-quality speed humps, we offer professional installation conducted by our certified technicians. We are looking forward to hearing from you, so wait no more and get in touch with us today.
Download your Speed Humps brochure: