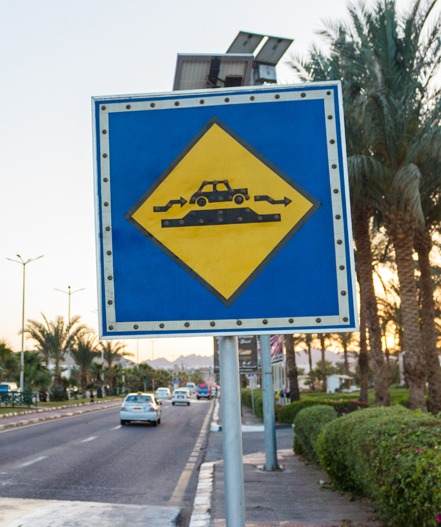 Download your Speed Humps brochure:
Access Technologies is a leading supplier of speed humps within Perth and Western Australia. We supply either steel speed humps, or rubber speed humps – depending on the location, traffic volumes, and traffic usage patterns.
Steel Speed Humps
Designed to comply with the Australian Standards, steel speed humps are the product of choice where high traffic flows are prevalent and are best suited for industrial premises and commercial car parks, where there are high traffic flows. These humps are robust in this environment and come fully zinc plated for many years of trouble-free service. These speed bumps are designed to minimize noise and 'rattle' and have a built-in bridge design to accommodate pipes and cables where this feature is required. Black and yellow safety striping ensures excellent visibility under all conditions.
Rubber Speed Humps
Rubber Speed Humps from Access Technologies are manufactured from a mixture of natural and recycled rubber to reduce environmental impact. These speed bumps offer a low-cost solution in installation where traffic flows are not excessive. This is a modular system that can be supplied to any required length, with end caps supplied to suit the required layout. These speed humps offer particularly smooth and silent operation and are recommended for use around residential apartments and light commercial installations.
Our rubber speed humps can be supplied in any pattern of yellow or black modules, and are UV stabilized to ensure many years of trouble-free operation.
Download your Speed Humps brochure: