Portable Boom Gates Perth – Solar Powered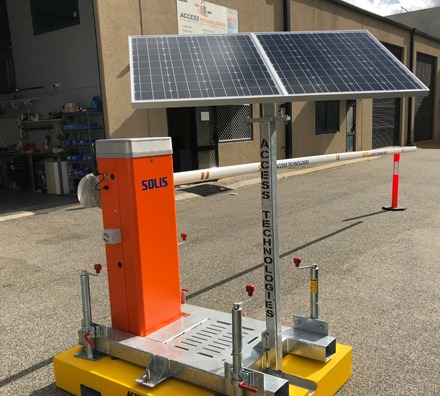 Solar Boom Gate
Designed and constructed by Access Technologies, SOLIS is a high-quality, fully portable solar-powered Boom gate. It is reliable and Ideal for use in remote locations where running mains power to the gate is problematic or expensive. Our portable solar boom gate, SOLIS, is powered by 2 solar panels, which are rotatable through 360 degrees allowing for maximum efficiency.
The units are battery-backed to ensure continuous operation – even on cloudy days making SOLIS extremely reliable in remote applications. With our solar power boom gates, safety is never an issue, because they will not fail during power outages, which means that your clients, employees and other people visiting your property will never have to leave their car unattended just to open the gate.
To ensure professional service and durable products we hired only experienced and knowledgeable staff. When you decide to use SOLIS you can be sure that it will be tailored to your property's characteristics and your needs. Our team will visit you to check the number of sunlight hours and to find the best location where our solar boom gate should be placed.
​
Perfect Solution For Any Site
Solar boom gates are simple, easy to use and yet very efficient access solutions, and that's why they are a top choice for many different types of properties. They can be placed anywhere, and that is why SOLIS is ideally suited to:
Building and construction sites

Road works

Mining and extractive industries

Government and Corporate events

Sporting Events

Logistics

Remote locations
Whether you need our solar boom gate for a parking lot in front of your commercial building, or you want to make a construction site safer and restrict car traffic in specific areas, we are here to help. SOLIS have been installed at many locations across Perth, which is one of the best indicators that we are among the leading manufacturers and installers of boom vehicle access control products.
Two SOLIS Models
1. The first one is Solar Boom Gate Perth fitted to a fully welded and galvanised skid that can be transported to site in a one-tonne ute or a box trailer. Each unit has forklift tine pockets on each side to allow for easy loading, unloading and manoeuvrability. Once in position, setting up is fast and convenient. Installation is a simple process requiring basic hand tools and can be completed in 15 minutes.
2. The second option is a Solar Boom Gate Perth fitted to a steel-reinforced concrete foundation. This robust model has been specifically designed for mining and industrial applications.
In case you have trouble deciding which one of these two models will fit your needs better, don't hesitate to contact our knowledgeable staff and they will help you make a perfect choice. Besides professional installation, we can also conduct necessary maintenance, so no matter if you want to order SOLIS, or you have some doubts, we will be at your service to provide accurate information within minutes.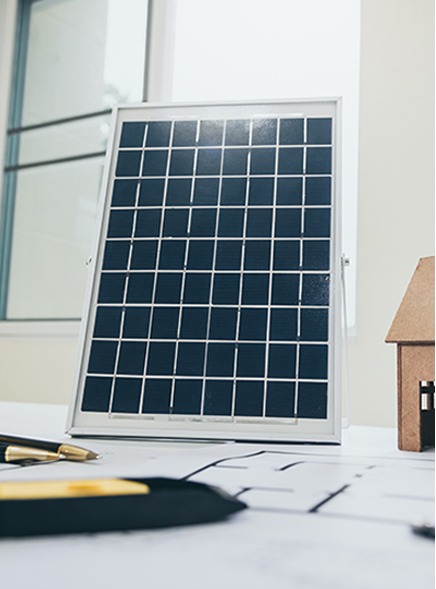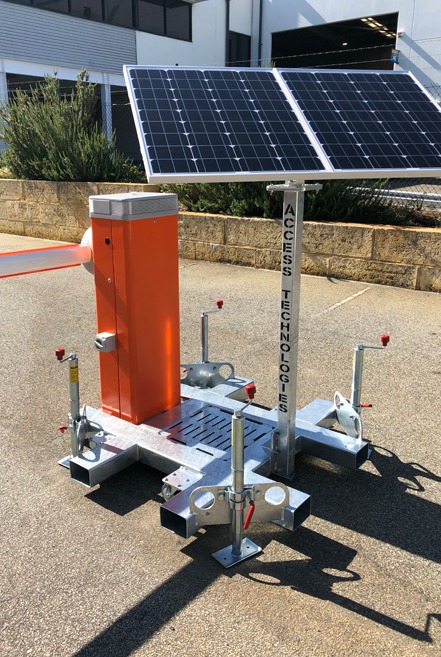 Mechanical
Boom Arm Length: 3-7m as standard
Boom Arm Height: Adjustable – 1100mm to 1300 mm
Boom Arm Material: Aluminium
Size of Base: 800 Kg total – Steel reinforced Concrete Base
Adjustability: Fully adjustable; Suitable for uneven terrain
Allowable Cycle Rate: 400 Operations per 24-hours
Electrical
Solar Panel: 2 X Solar Panels (Rotatable Through 360 Degrees) And
                         2 X Deep Cycle Batteries Are Standard.
Power Isolation Switch: Standard On All Gates
Mains Power Option: Solar Or Mains Powered Option
Control System
Range: 50m as standard, up to 300m with booster
Access Control: 2 X 2 Channel remotes as standard
Standard Safety Features
Lights: Fitted with flashing LED strip lights as standard
               Flashing beacons or traffic lights available upon request
Power Isolation Switch: Standard on all gates.