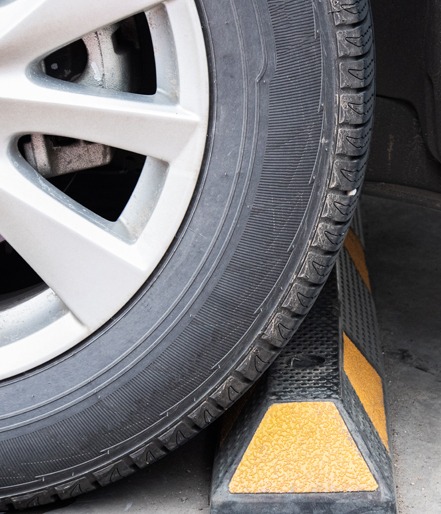 Download your Wheel Stops brochure:
Whether you are creating a new parking lot, or you want to improve the existing one, we can help you with our high-quality products. Wheel stops Perth from our offer will provide you and your clients, visitors or employees safe and orderly parking experience.
One of the main purposes of this type of product is to prevent the drivers from pulling too far into the parking space or to attempt any risky maneuvers. On the other side, wheel stops are an excellent way to prevent traffic jams and other incidents in crowded commercial parking, because they can be used to guide the flow of traffic.
We offer rubber and concrete wheel stops, and no matter which option you choose, rest assured that you will be satisfied with its durability and quality. Our staff will be there to help you make the final decision by providing valuable tips and information about our products.
Rubber Wheel Stops
For maximum durability, we recommend this economical one-piece rubber wheel stop (parking stop) with yellow high visibility panels. These wheel stops are manufactured from recycled materials with dimensions that comply with all relevant standards.
Product Features:
Complies with Australian Standards

Full length – 1650mm long.

Economical – Simple moulded construction.

Easy to install – all fixings included.

Cannot chip or corrode.

Suited to use in factories, warehouses, and car parks.
One more advantage of the rubber wheel stops is that they can cause less damage to the vehicle than the ones made of other types of material. They have yellow high visibility panels, so you can be sure that the users of your parking lot will be able to notice them on time.
Concrete Wheel Stops
Concrete wheel stops are perfect for installations that need to blend in with existing concrete kerbing or concrete buildings – to protect walls and building from vehicle damage. Since they are heavier than the rubber ones, the installation process is different, and require professional assistance which we can provide upon request.
An economical alternative to both plastic and rubber garage stops, precast concrete parking stops are ideal for use in low traffic areas. Concrete vehicle wheel stops are manufactured with the addition of steel reinforcement bars for added strength and to prevent premature cracking.
Product Features:
Uses 2 x 20mm PVC pipe to secure in place (grouted after).

Neat, smooth finish.

Can be painted to customer requirements.

Water exit holes in the base to prevent pooling.

Suitable for use in low volume public car parks, warehouses, industrial yards, commercial premises
Choose Premium Quality Wheel Stops Perth and Contact Us Today
No matter if you decide to implement rubber or concrete wheel stops Perth at your parking lot, you can be sure that the products we offer are long-lasting and can stand the test of time successfully. There is no reason for you to risk someone getting injured on your site when you can improve the safety of people as well as parked vehicles with our high-quality barriers.
All you have to do is to contact our courteous customer representatives, and they will answer all your questions. No matter if you decide to use the online form on our website, or to give us a call, you can expect to get all the information you need within minutes.
We pay great attention to customer experience and that is why we leave nothing to the case. Our staff will work closely with you and suggest the best option within your budget. Besides parking barriers, we offer an array of products like automatic and manual boom gates, various bollards, convex mirrors and others.
Download your Wheel Stops brochure: